Transaction Screen Patient Menu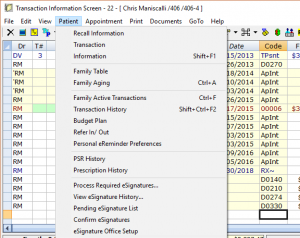 (Click image for full size)
Patient on the menu bar of the Transaction screen contains the following options:
Recall Information

The Recall List will display any lists that patient is currently being tracked on for recall.  There is also an option to display all family members' recall information on the same window.

Transaction

The Transaction open allows you to quickly go to the Transaction screen for a different patient. On the Search Patient window you are able to search by Last Name, First Name, Home Phone, Work Phone, and SSN. Note: The original patient's Transaction screen will still be open.

Information [Shift+F1]

Information brings you to the patient's Information screen.

Family Table

Opens the patient's Family Table

Family Aging [Ctrl+A]

Brings you to the patient's Family Aging window. The Family Aging window will display all family members, along with any balance they currently have – broken down into aging periods (30/60/90/120) along with totals for the family.

Family Active Transactions [Ctrl+F]

This will allow you to access the entire family's Active Transaction information. If you are already viewing the Family Active Transactions, this selection will be shown as Patient Active Transaction. Two additional columns displaying Name and Running Balance will be added to the Transaction screen. The amount in Running Balance is only the balance from the Active Transaction screen for the family. It does not include treatment or payments that are in History.

Transaction History [Shift+Ctrl+F2]

Opens the patient's Transaction History.

Budget Plan

Opens the Budget Plan window.

Refer In/Out

Opens the Refer In/Out window.

Personal eReminder Preferences

Opens the Personal eReminder Preferences window. From there, you can setup your patient's preferences for receiving eReminders. For example: if your office eReminder settings are setup to send text messages as top priority, all patients who have a Home Cell Phone number entered and who has an appointment scheduled will receive a text.  If your patient provides a cell phone number but does not want to receive eReminders as texts you can indicate that in Personal eReminder Preferences.

PSR History

Displays all PSR records for this patient that were entered from the Perio Chart.

Prescription History

Displays a list of all prescriptions that were printed by clicking the Prescription    icon.

Process Required eSignatures…

Checks the eSignature Office Setup and the patient's history to see if there are any documents the patient is due to electronically sign.

View eSignature History…

View a list of previously eSigned documents.

Pending eSignature List

View a list of all documents that are pending to be eSigned.

Confirm eSignatures

View a list of all electronically documents.  This is also where you will approve the patient's signature.

eSignature Office Setup

This setup contains the default setting for new eSignature computers, the setup for documents that need to be signed, and the destination computers where the patient will sign.