Transaction Screen Appointment Menu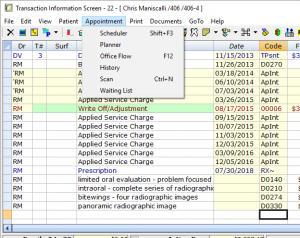 (Click image for full size)
Appointment on the menu bar of the Transaction screen contains the following options:
Scheduler [Shift+F3]

Brings you to the Appointment Book with the patient selected.

Planner

Brings you to the Appointment Book in Planner mode. This will display a weekly or monthly view of the Appointment Book. The original patient's name will be selected once the Appointment Book opens.

Office Flow [F12]

Brings you to the Office Flow.

History

Displays the patient's Appointment History.

Scan [Ctrl+N]

Opens the Appointment Scanner which 

allows you to search for open time slots to schedule your patient's appointments.

Waiting List

Opens the Appointment Waiting List.