Sending Quick Letters via E-Mail
MOGO's Digital Communication Suite (DCS) includes MOGO's powerful e-mail features, such as the ability to e-mail password protected PDF documents for security purposes and sending Quick Letters via e-mail.
The Supervisor, or anyone who has been given rights, can send Quick Letters to e-mail from the Report Merge screens and from the Power Sort Report.
There is also a Quick Letter icon on the Digital Communication Suite E-mail screen.
Note: You must have been given rights by the Supervisor in order to send Quick Letters via e-mail.
If one or more messages did not send, MOGO will prompt you to view a list of e-mails that were not sent. From this list you can edit the e-mail address and send it again.
There is also an option to send the letters to the printer instead.
You can send a Quick Letter via e-mail from the Quick Letter Print Preview screen.
When printing a Quick Letter, click the down arrow next to the Email icon on the Print Preview screen.
This will display the menu example as shown below, and will allow you to send the selected Quick Letter via e-mail.
Note: These options are not shown on the Quick Letter preview screen if you do not have rights to Send E-Mail.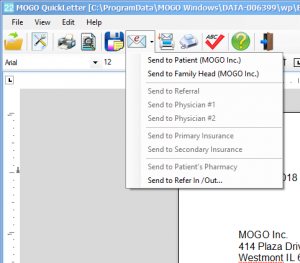 You can select from Patient, Family Head, Referral, Physician 1, Physician 2, Primary Insurance, Secondary Insurance, Pharmacy, or Refer In/Out.
If a choice is disabled, it is because you have not entered this information for the patient. For example, they may not have a Referral source on their Patient Information screen.
This option allows you to send a Quick Letter in response to e-mail which has already been received:
With the received e-mail highlighted, click on the Send Quick Letter icon. This will bring up a list of available Quick Letter filenames.
Select the document you wish to send and then click [OK].
In order to send a Quick Letter via e-mail, click the down arrow next to the Email icon.
On the next menu, select where you wish to e-mail the Quick Letter.
The option to send e-mail to the following recipients is based upon their entry in your database. For example, the patient must have a Referral source in order to select "Referral".
After selection, the Quick Letter will be attached to your e-mail message. To send your e-mail click the [Send] button.